Spring is here! That means it's time for a good spring cleaning! Here are our top tips for getting your tiles shining like new again:
1. Use our FILA Cleaner for your everyday floor mopping needs. FILA Cleaner is safe to use on most stones, porcelain, and ceramic. A spray mop is best or a damp microfiber cloth with a deck brush to get into those grout joints. Remember: A tiny bit of this super concentrated goes a long way.
2. Shine those bathrooms and countertops! If your bathrooms and countertops are in need of a little extra tlc, you definitely need our bathroom spray cleaner and our universal spray cleaner. The bathroom cleaner cuts through dirt like a pro and just requires gentle scrubbing. The universal spray cleaner is a great all around cleaner for porcelain and granite countertops, windowsills and little spills around the house.
3. Heavy Duty Scrubbing! You can get your porcelain floor looking like new again with our FILA PS/87 and either a deck brush or a scrubbing machine. And if your grout needs a little tlc, then you need the FILA grout cleaner applied the same way as the heavy duty cleaner. Be sure to remove the dirty solution with a wet vacuum and your floors will be good as new!

Vanities – not just plain bathroom vanities but Italian designed floating vanities! You guys have been asking for it so here it is! This one of a kind Italian designed vanity set comes complete with the cabinet, faucet, sink, countertop, mirror, lots of storage, slamguard hinges and soft close drawers. These floating vanities are available by special order with a short 2 – 3 week lead time. Of course we have it on display so you can come into the showroom and see it for yourself! And, maybe you will decide to make the clean modern lines of this floating vanity a part of YOUR dream space!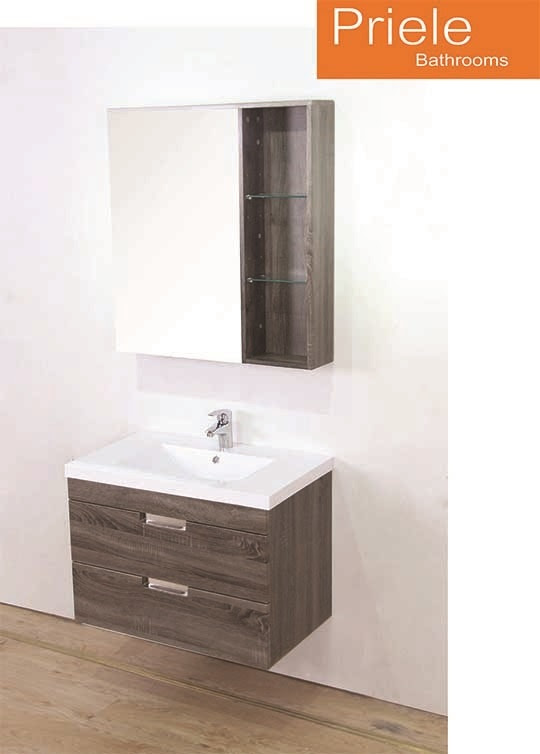 We're focused on the cooler tones of whites and grays. We talked about this trend earlier this year, and it is still going strong. We expect it to continue into next year with warmer accents being added to tie into the cooler whites and grays. And, that is why we LOVE the Reveal El Dorado pictured below. It combines the best of both warm and cooler toned neutral palettes. It's the perfect tile for a modern space and can also help update an otherwise drab, out of date space. Let us know what you think of the Reveal El Dorado. Do you prefer cooler tones or warmer tones for your floor tile?  
We get asked all the time about step edges and baseboards! Mainly, how do you finish off those edges of jagged cut pieces of tile?
As the Tile Experts, we have an affordable and stylish solution – tile trims! You'll be seeing a lot more of these tile trims as manufacturers experiment with different finishes and designs. Tile trims can even add a design element to walls as a listello or border.
Pro Tip: Use a contrasting color tile trim on your step edge to deliberately show and alert someone that there is a step edge to avoid a nasty fall.
Spring is definitely here and the heat is on!
That means it's time to enjoy that Bahamian backyard living we all love so much! Back by popular demand, we have the porcelain Block Bianco OUT in size 12 x 24". The light color makes it cooling in hot climates under your bare feet. With a versatile soft cream limestone effect AND non-slip grip rating, the Block Bianco can easily be used in any pool, patio or deck area. Stay tuned over the next couple of weeks for details about our upcoming outdoor living promotion.

There is no question that our featured indoor tile this month had to be the Novabell Sovereign Grigio Chiaro in size 30 x 30". Large sizes are in stock and they are here to stay! We are so pleased to see them taking off since we first introduced the 24 x 48" size on our showroom floor  back in 2009. The Grigio Chiaro is a light "greige" (the perfect blend of gray and a beige). The large format makes it great for open office floor plans, kitchens, living rooms and dining areas.
If you follow us on social media, then you may have already seen this. If not, what are you waiting for? Go follow us on Facebook and Instagram!